CURRENT WORKSHOP SCHEDULE
If the workshop you are interested in isn't currently listed in our schedule of Events below, please contact us with an Expression of Interest.
Please also contact us if you are interested in hosting an In-House workshop, where we come to you! We will be happy to discuss your individual needs and provide you with an obligation free quote.


Understanding and Supporting Behaviour – Benalla
October 14, 2019 @ 10:00 am

-

3:15 pm

UTC+0

$117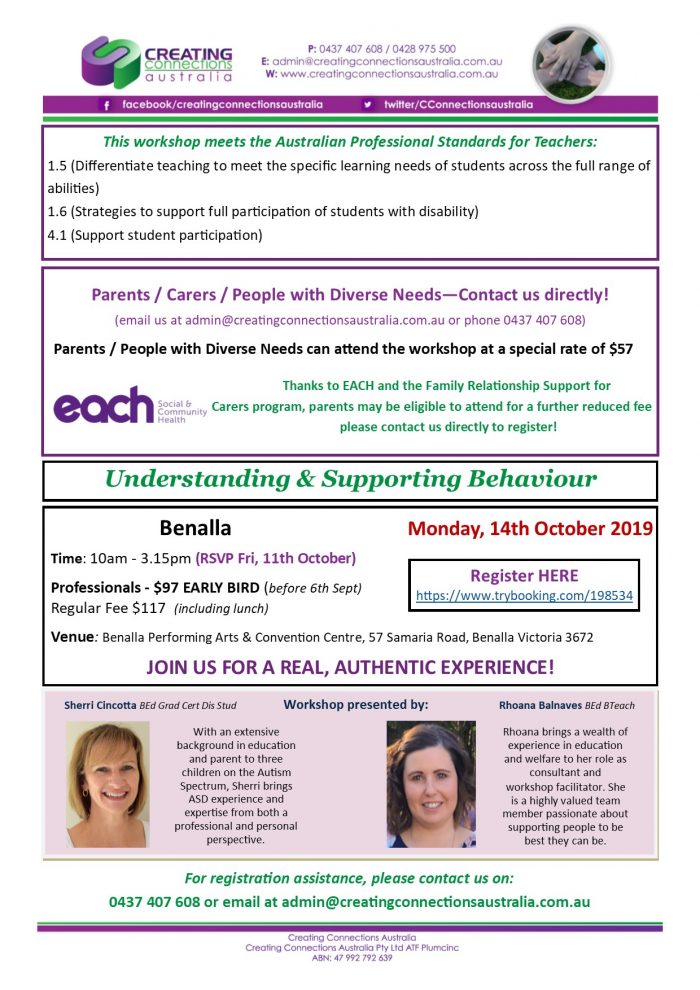 Early Bird Special price of $97 before 6th September
Are you searching for better ways to support the behaviour of those with Autism or other needs?
We're here to help you find alternatives to 'behaviour management' techniques that simply just don't work for the most vulnerable people we support.
In this workshop you will learn:
How and why behaviour directly links to communication
The types of behaviour that people might see as challenging
What triggers are and how we can use them to anticipate behaviour
How to interpret the underlying meaning of behaviour
Some of the most common reasons for behaviour
How to differentiate between a tantrum and a meltdown
How to identify triggers and analyse behaviours
How to use an analysis document to better interpret and analyse behaviour
Why behaviour support is more effective than behaviour management
Tips for responding to behaviour 'in the moment'
How to plan for behaviour support
The importance of setting up systems of support across four (4) key areas
Our key practical tools and strategies for supporting behaviour and personal wellbeing
How to implement engaging environments, accommodations, skill development and practical supports
How to integrate support strategies that are effective and individualised
How to create a Behaviour Communication Analysis and Support Plan
The value of profiling communication
This workshop meets the Australian Professional Standards for Teachers:
1.5 (Differentiate teaching to meet the specific learning needs of students across the full range of abilities)
1.6 (Strategies to support full participation of students with disability)
4.1 (Support student participation)