To understand what a person needs that will provide the best possible support, it is important to find out as much about them as we can.
We recommend using a personal profile that establishes who the person is and what makes them tick (so to speak)! We can collate information that tells us about a person strengths and challenges as well as those areas where they may need the extra support.
Personal profiles are set out in an 'easy to use' format that helps identify particular areas of need, including sensory and behavioural support and the activities that are of a 'special interest' to them. We are often inundated with many different written reports and recommendations from therapists and specialists which can be quite tedious and time consuming to read. The profile enables this information to be reduced into a two page document highlighting the most relevant and straight forward information that can be skimmed over quickly when needing to refresh or check up on particular areas.
They are the perfect tool to use in an educational setting, particularly because students come into contact with many different teachers during the school day, especially in the secondary school setting. In addition to this, emergency or casual relief teachers are able to get a feel simply by reading over the profile.
One of the major benefits of keeping a personal profile of someone is that it can be shared with all of the people who care for or support the person. It provides a snapshot of information that outlines all that you need to know in order to plan and create an environment that will nurture and support the person.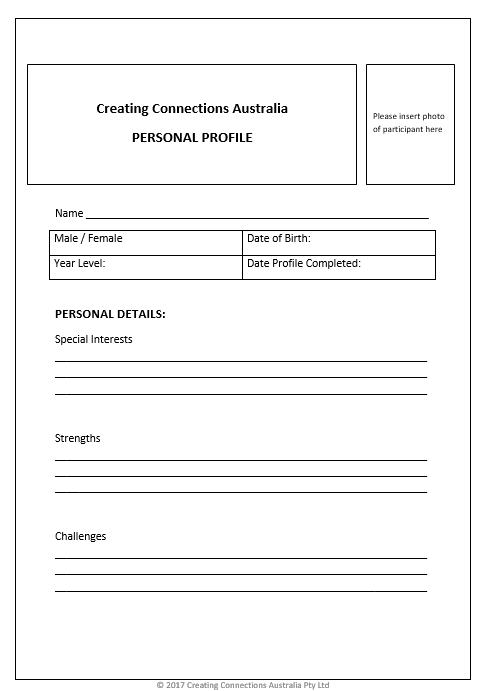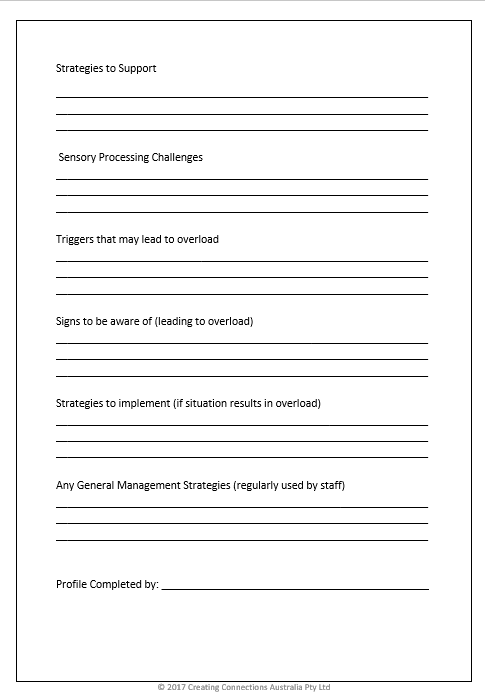 We use this template for a lot of the work that we do as education consultants but also on a personal level with our own families.
It might be worth looking at all of the existing documents that you have and putting them into a format like this – it will help you to tie everything together!
Tell us about your experiences with personal profiles if you have used them before!